Regular price
$ 49.99
Sale price
$ 49.99
Unit price
per
Sale
Sold out
EasyIron® Extra Strength is a therapeutic and non-constipating formula for those experiencing severe iron deficiency anemia. EasyIron is a gentle and non-constipating iron formula. It combines iron bisglycinate, which is 4.5x better absorbed than most other forms of iron, with key co-factors and our Omega Absorb™ delivery system for 3x greater absorption due to the suspension in healthy oils.
Benefits

Non-constipating

Many people suffer from constipation when they take Iron supplements because Iron that's not absorbed remains in the colon. EasyIron is absorbed easily and therefore much less likely to cause constipation.

The iron that's gentle and fast-acting

Iron deficiency can reduce red blood cell formation, and lead to anemia, leaving you feeling dizzy, weak and fatigued. Iron deficiency is common in women, especially in pregnant and nursing mothers. Iron deficiency affects 20% to 25% of the world population and is the most common type of anemia. In Canada, the prevalence of iron deficiency anemia among female youth and adults (12 to 49 years old) is estimated at 10%.

You may be iron deficient if you are:
a teenager or woman who experiences heavy menstruation cycles
pregnant or nursing
vegetarian or vegan
an athlete
a senior citizen who includes very little meat in their diet
suffering from celiac disease
How do you know if you are deficient? Look for these signs:
Lack of energy
Irritability
Pale complexion
Feeling colder than others around you
Iron alone may not be enough. You need all the supporting ingredients to make healthy red blood cells. That's why EasyIron includes essential co-factors such as folic acid, vitamin B12, vitamin C, copper and zinc to help your body make healthy red blood cells. Vitamin B12 is crucial for producing cellular energy, and DNA, protein and lipid synthesis to support cell formation, including red blood cells. It is an essential vitamin for maintaining general health, including the nervous and cardiovascular systems.

Omega Absorb™
Through the power of healthy oils, our award-winning delivery system allows our bodies to absorb the nutrients it needs to improve our health and achieve our wellness goals.

철분은 근육에 산소를 공급하는 헤모글로빈을 만드는 핵심 영양소입니다. 낮은 철분은 특히 임산부와 수유부에게 흔합니다. 철분이 없으면 충분한 적혈구를 만들 수 없어 빈혈을 유발하고 어지럽고 쇠약 해지며 피로감을 느낍니다.

* 부드럽고 효과적으로 적혈구 생성을 돕습니다.
* 잘 흡수되고 변비를 일으키지 않습니다.
* 최적의 결과를위한 모든 필수 지원 성분 포함
* 4.5 배 더 잘 흡수되는 제 1 철 비스 글리시 네이트 함유
* 오메가 서스펜션 기술 (OST)은 더 나은 흡수와 당신이 느낄 수있는 결과를 제공합니다.
Ingredients

약용 성분
* 엽산 800 mcg
* 철분 18mg
* 비타민 B12 1000 mcg
* 비타민 B6 25mg
* 비타민 C 50mg
비 약용 성분
* 밀랍
* 클로로필 린 구리 복합체
* 히프 로멜 로스
* 레시틴
* 올리브유
* 물
IRON
FOLIC ACID
VITAMIN B12
Use & Directions

One (1) capsule daily, or as directed by your health care practitioner. Take a few hours before or after taking other medications. Formulated without gluten, dairy, corn, yeast, artificial color or preservatives.
Share
View full details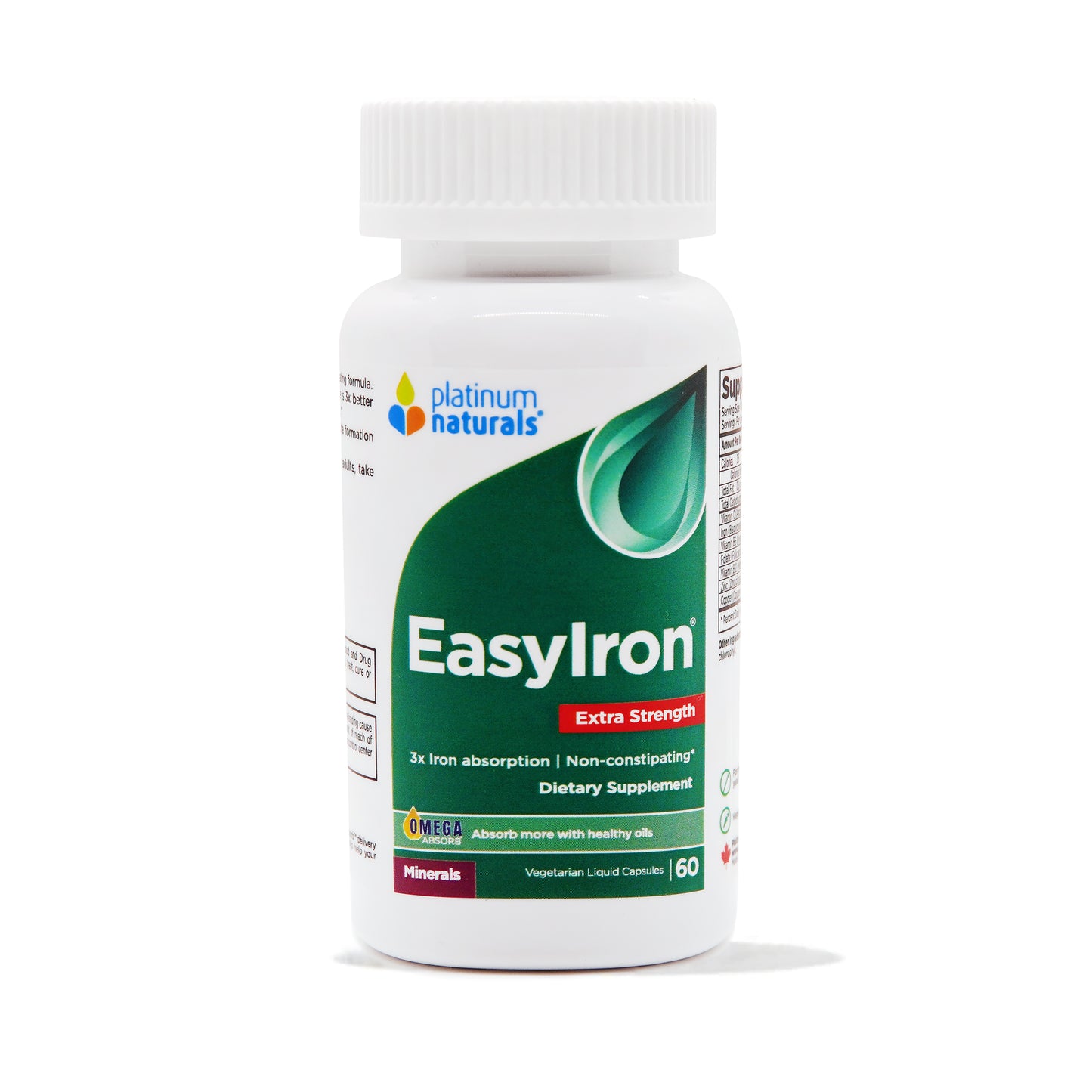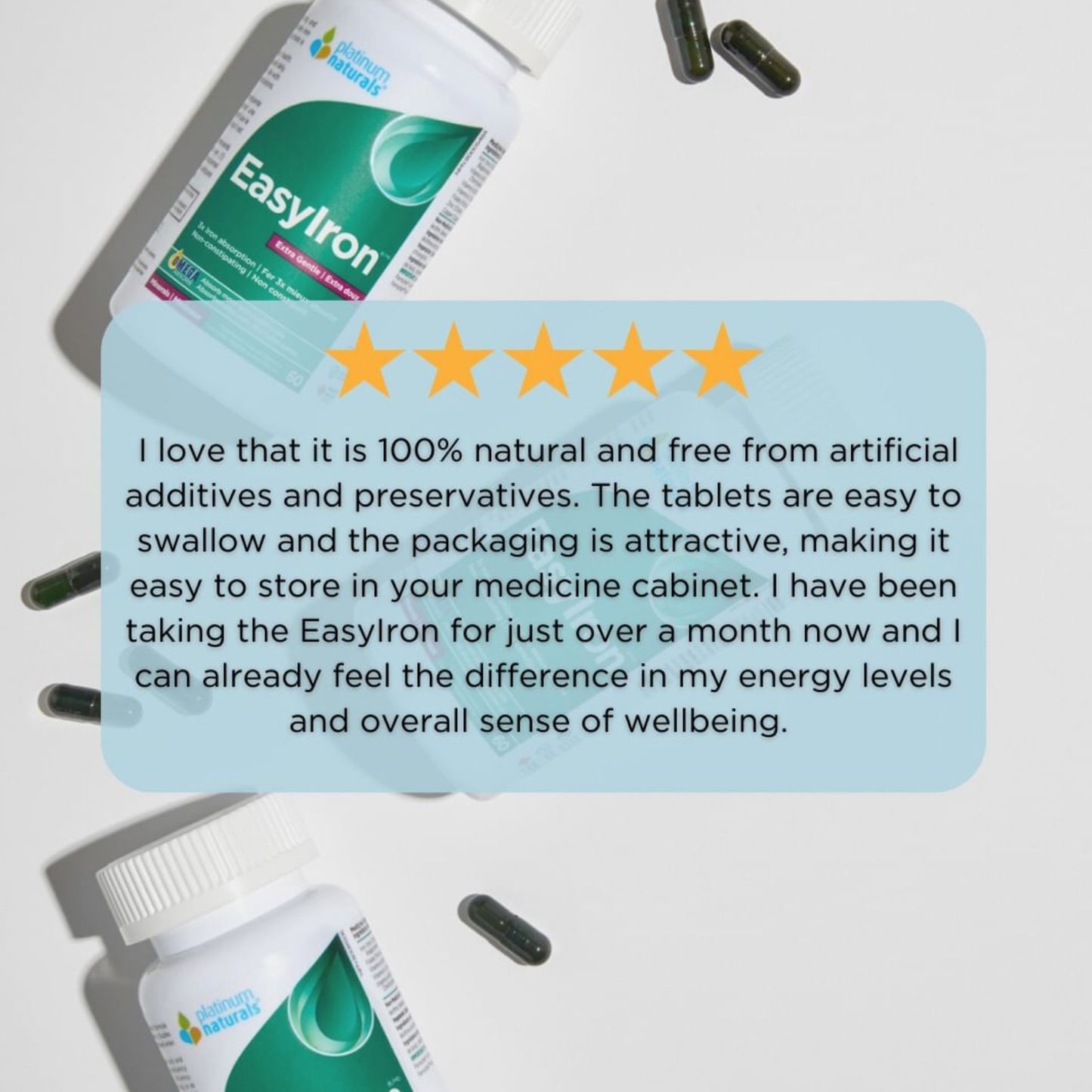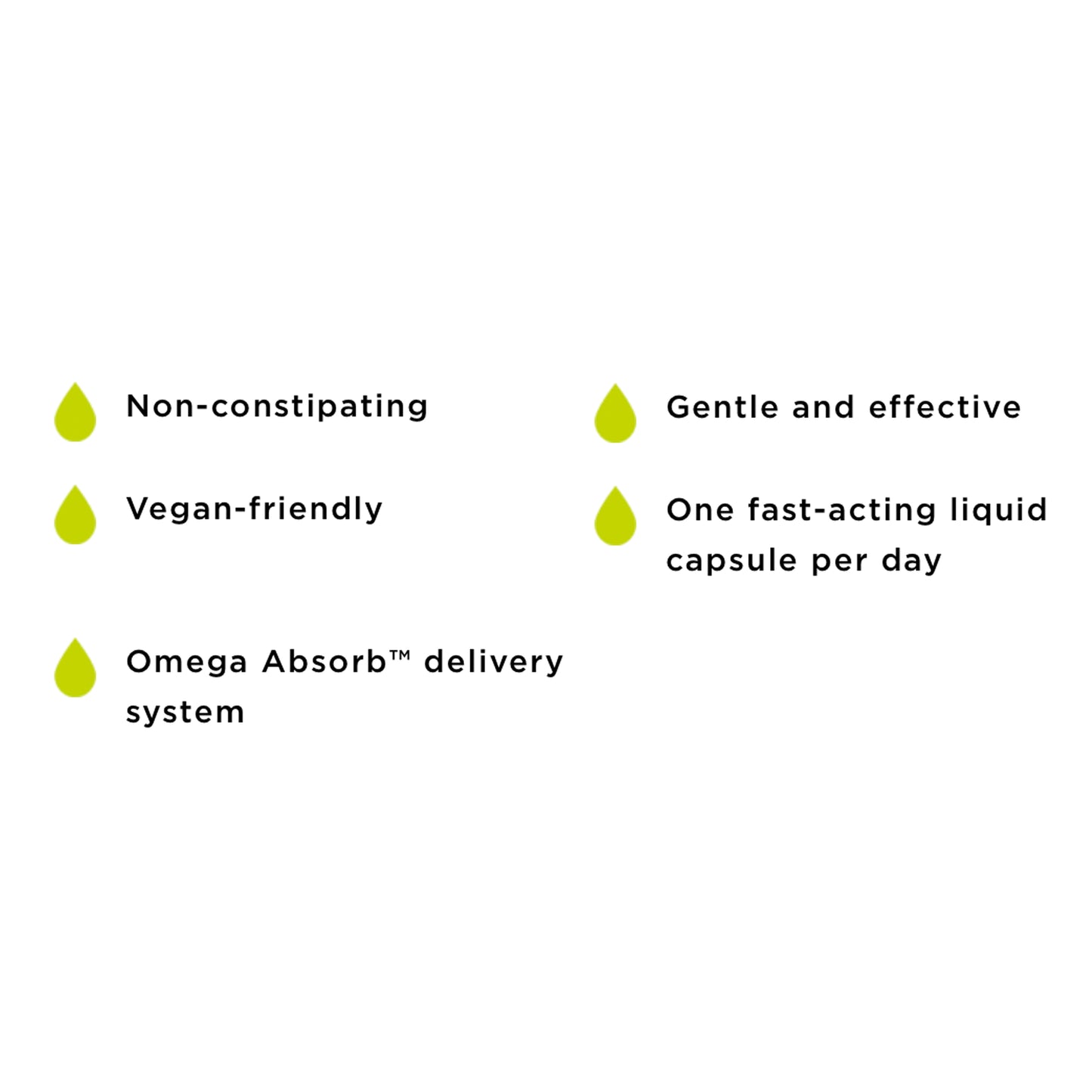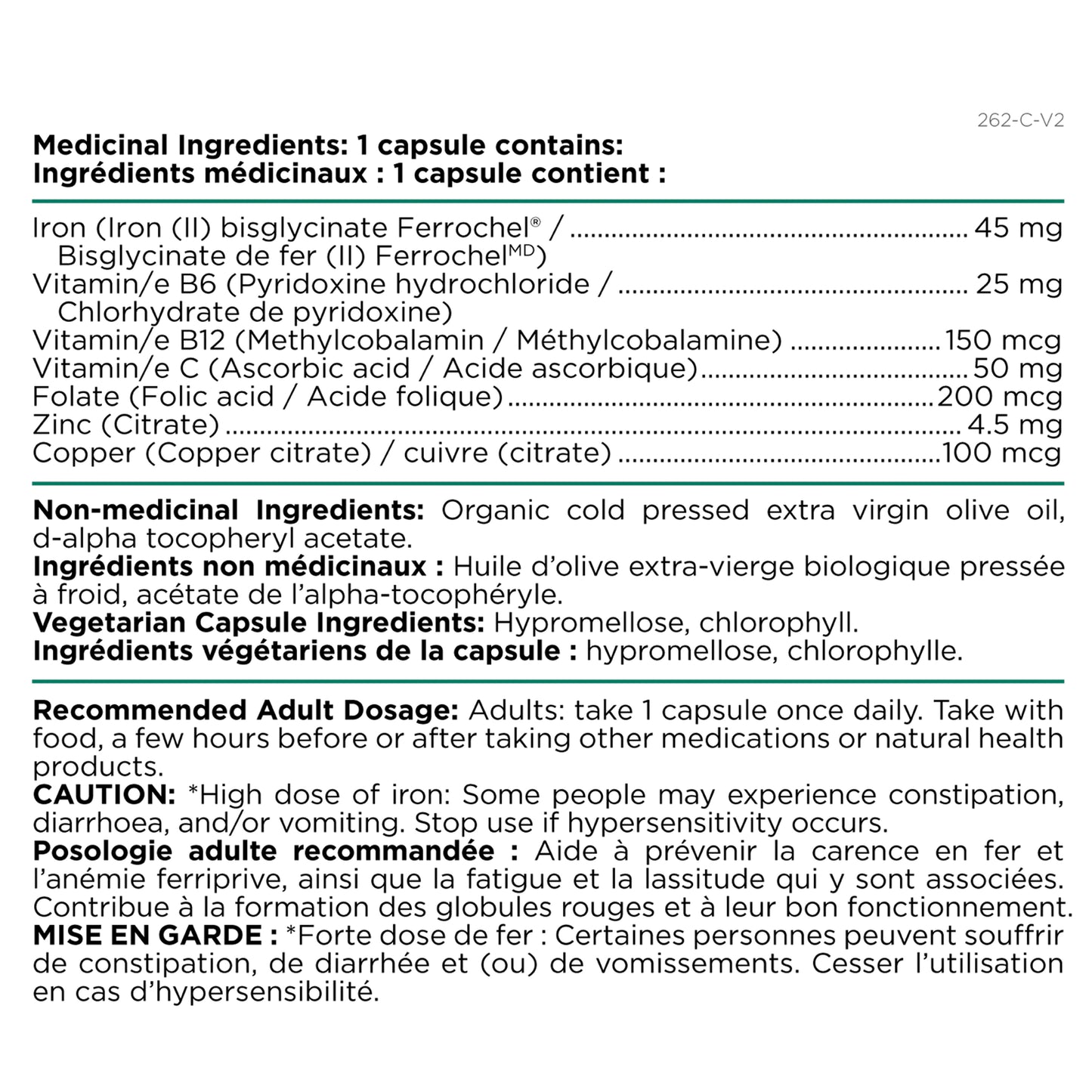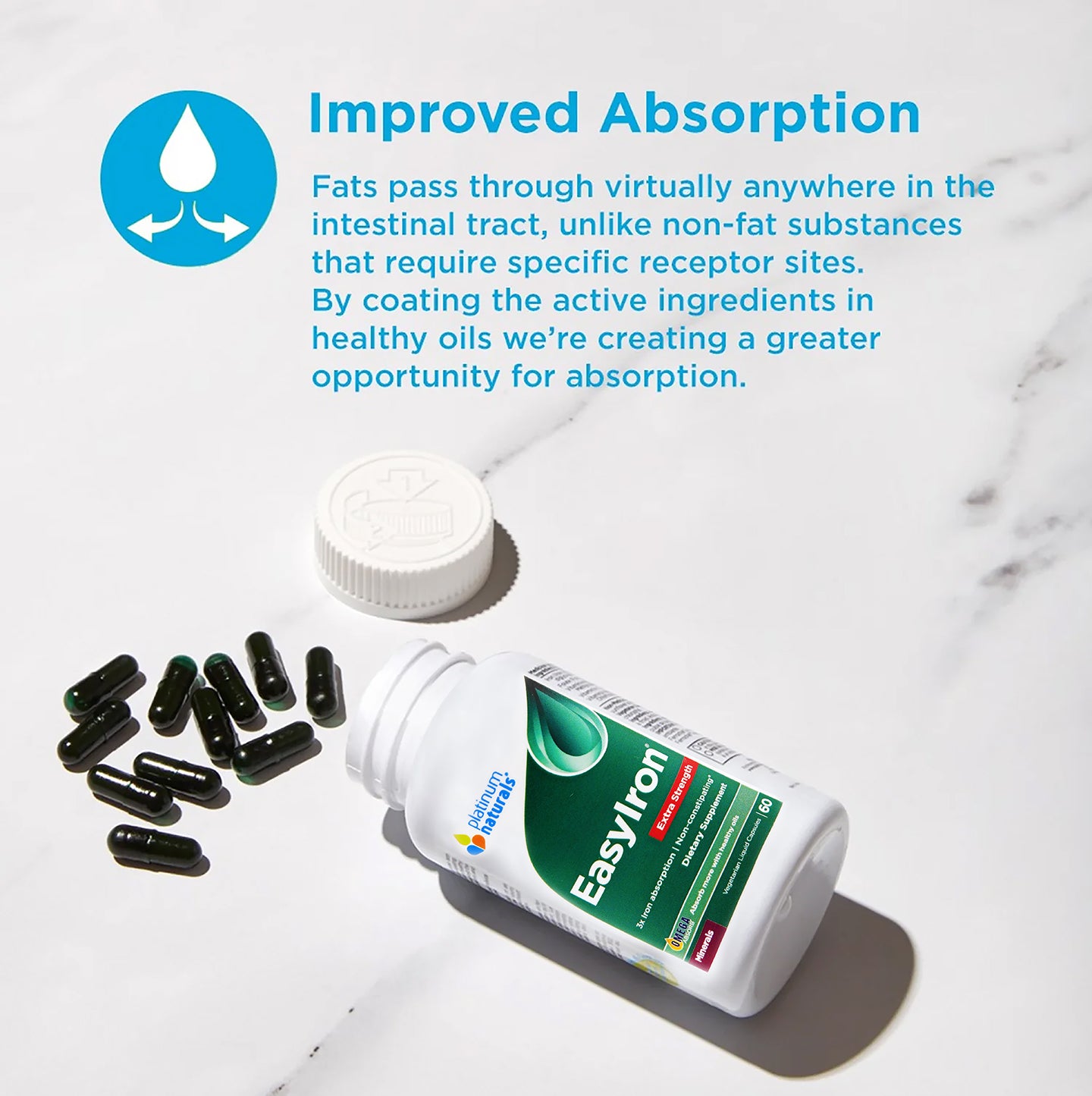 Iron deficiencies are common. Quality iron supplements are not.
Here's why EasyIron is one of the best iron supplements on the market.

✔ We use iron bisglycinate, which is 4.5x better absorbed than most other forms of iron.
✔ Non-constipating, gentle and effective.
✔ Includes essential co-factors such as Folic Acid and Vitamin B12 to help your body make healthy red blood cells.
✔ Nutrients are coated in fat for increased absorption.
✔ It's recognized by the Society of Obstetricians and Gynaecologists of Canada.