Regular price
$ 89.00
Sale price
$ 89.00
Unit price
per
Sale
Sold out
TOTAL IMMUNE CARE 토탈 이뮨 케어 - 면역케어
토탈 이뮨 케어는 플레티넘 네츄럴스의 최신 제품으로 면역력 강화에 도움이 되며 항 바이러스와 자연 항생제 효능의 100% 자연 기능성 영양제
Benefits

오레가노 오일 : 항균 활성과 항 바이러스및 항진균 특성으로 널리 알려져 있습니다. 최근 조사에는 이러한 화합물이 강력한 항산화제, 항염증제, 항당뇨제 및 암 억제제임을 입증했습니다. (출처 : NIH)

엘더베리 : 전통적으로 호흡기 문제를 예방하고 치료하는데 사용되었습니다. COVID-19 대유행 기간 동안 질병을 치료하거나 예방하기 위한 엘더베리 보충제에 대한 관심이 있었습니다. (출처 : NIH)
Ingredients

비타민 C : 면역력 강화, 항염, 항산화 효능
아연 : 면역력, 단백질 생산
오레가노 오일 농축액 : 항 바이러스, 자연 항생 능력, 강한 항산화 성능, 항 박테리아, 항 염증 (Anti-Inflammationa), 장 건강
알리신 : 마늘에서 추출된 성분으로 강한 항 바이러스, 자연 항생 성능, 면역력 강화
엘더베리 : 면역력 강화, 항생, 항 염증, 호흡기 문제의 예방과 치료
골든 실 : 자연 항생제라고도 불리우는 쓴맛의 허브
카엔 페퍼 : 심장 폐 건강, 소화기관, 신진대사 향상, 면역력, 통증 완화
포도씨앗 농축액 : 혈압, 혈액순환, 항산화 효능, 뇌력 향상, 신장, 항 간염, 항암, 간보호
Use & Directions

Take one capsule daily with a meal. When needed take 2 capsules 3 times daily.
매일 1정을 음식과 함께 섭취하십시요. 필요에 따라 하루에 2정을 3번 드실 수 있습니다.
Share
View full details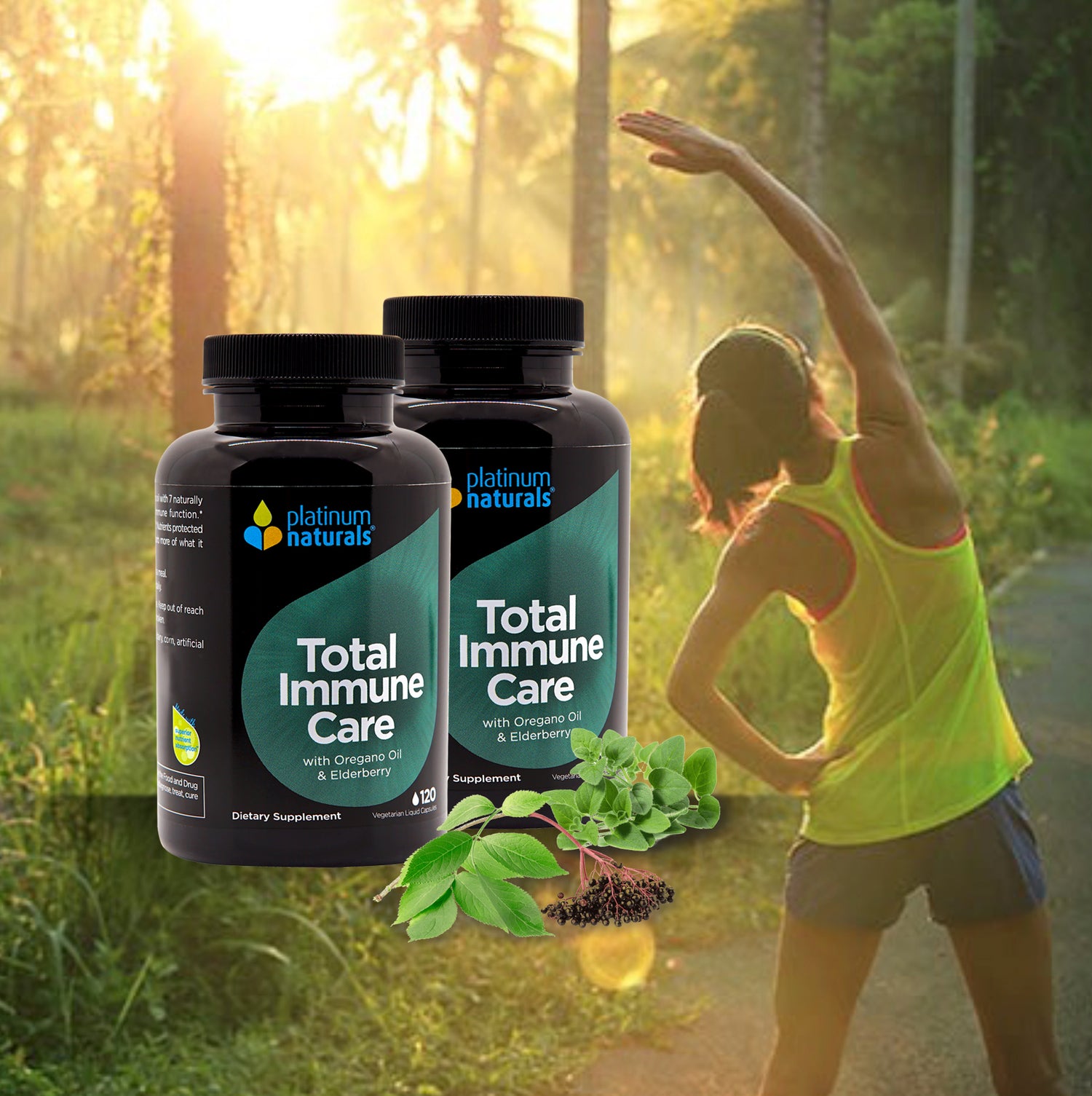 All in One Immunity Booster!
Total Immune Care supports the body's immune system with highly bioavailable and natural blend of oregano oil, elderberry, zinc, vitamin D, and transfer factors. This potent combination of ingredients are designed to educate and support your immune system.